BellaCrema® mild & harmonisch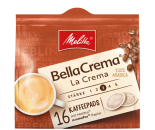 BellaCrema® mild & harmonisch
Details
BellaCrema® mild & harmonisch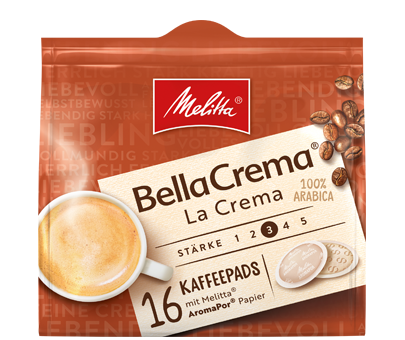 BellaCrema® mild & harmonisch
100% Arabica beans and the medium roast provides our BellaCrema mild & harmonisch pads their rich and alluringly intense aroma.
Melitta® AromaPor® Pads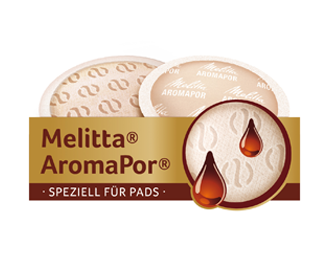 Melitta® AromaPor® Pads
Ever since Melitta invented the coffee filter paper 1908 in Germany, Melitta always aspired to ensure the perfect coffee taste. This vision resulted in constant development of new milestones, now in a new, unique filter paper especially for coffee preparation with pad machines. Its micro-fine pores ensure that only the most refined aroma components enter your coffee.
Pleasure in coffee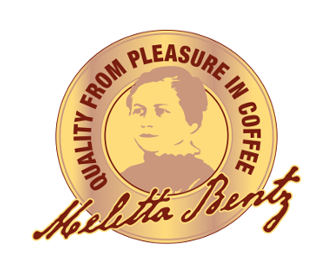 Pleasure in coffee 
This is what we stand for and have stood for since Melitta Bentz invented the first coffee filter in 1908, laying the foundation for modern coffee pleasure. This pleasure in coffee was and remains our motivation to consistently offer the best quality and unique coffee enjoyment with competence, innovation and a love of the product.
100% Arabica & BellaCrema®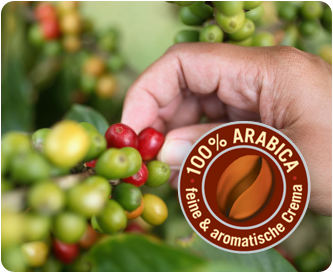 100% Arabica & BellaCrema®
Because coffee is a product that comes from nature, its taste is dependant on many factors. So that every cup of BellaCrema® coffee tastes the same, we blend several types of coffee beans together. The compostion of the blend is continually adjusted so that we can get the highest quality possible.We use beans harvested in South America and Central America for our Melitta® BellaCrema® blends. Although they are grown under varying conditions, they have at least one thing in common - they are all Arabica beans.
Using only Arabica beans means that we can guarantee a perfect cup of coffee every time. Arabica beans are known for their smooth and mild taste, and are preferred to the Robusta bean with it's stronger, slighty bitter taste.
The intensive aroma and the fine hazelnut reddish brown color are also due to the purity of the blend.